Buhari receives Dapchi girls, promises amnesty to Boko Haram, warns Politicians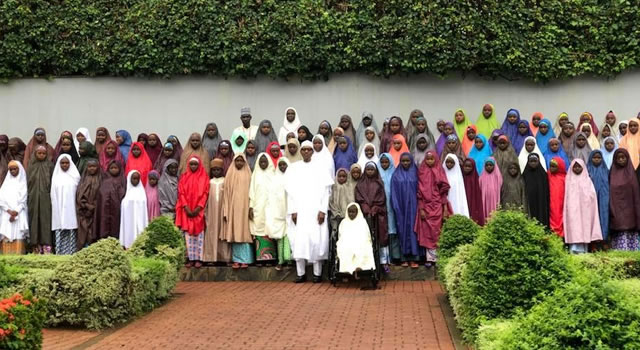 President Muhammadu Buhari on Friday received the abducted Dapchi, Yobe State schoolgirls, who were returned home to their parents by Boko Haram terrorists on Wednesday, a month after they were kidnapped.
President Buhari during the visit had a meeting with the girls, who were in the company of their parents, inside the Press Gallery of the Presidential Villa's Council Chambers.
Top government officials and security chiefs joined Buhari at the meeting that commenced at about 12.10pm.
READ ALSO: North represents all that is wrong with Nigeria, Yoruba elders reply Arewa
At the meeting, Buhari expressed his willingness to offer amnesty to members of the Boko Haram sect that are willing to drop their arms.
He also warned politicians not to politicize and critics not to politicize the nation's security situation, as he stated that security agencies have been directed to take necessary steps against any such person.
He called on all Nigerians, to join in the fight against terrorism, and revealed that the security services have been directed to put in place further measures around all schools vulnerable to attacks to ensure the safety of pupils/students and teachers and school workers.
Buhari threatened that all security agencies have been directed to ensure that the kidnap of students from any part of the country does not reoccur, and that Security Chiefs have been warned in clear terms that any lapse on their parts will be viewed seriously.
On amnesty for repentant members of the terror group, the president said, "While further efforts are being made to secure the release of every abducted citizen in Nigeria, Government is ever ready to accept the unconditional laying down of arms by any member of the Boko Haram group, who show strong commitment in that regard. We are ready to rehabilitate and integrate such repentant members into the larger society.
"This country has suffered enough of hostility. Government is therefore appealing to all to embrace peace for the overall development of our people and the country.
"May I also warn against those elements who have chosen to make political fortune of our citizens' misfortune. Government would not tolerate any attempt by any person or group to trivialize or politicize security issues for politically motivated ends.
"Accordingly, security agencies would not hesitate to decisively deal with such unscrupulous characters", he stated.
RipplesNigeria… without borders, without fears
Click here to join the Ripples Nigeria WhatsApp group for latest updates.
Join the conversation
Opinions