FOR WHOM THE BELL TOLLS: 9 sins of Oshiomhole that may quicken his fall from power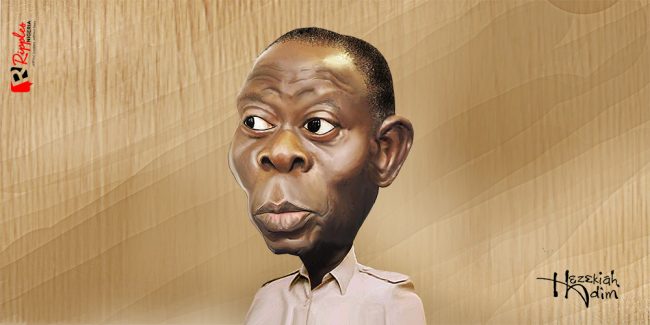 The National Chairman of the ruling All Progressives Congress (APC), Comrade Adams Aliyu Oshiomhole, is under fire. The Chairmanship seat of the APC is now extremely hot for him to sit on as there have been serious calls for his resignation.
This resignation fire was ignited by the Deputy National Chairman of the APC (North), Senator Lawal Shu'aibu, who in a letter dated May 27, 2019, entitled: "APC: It's fortune and misfortune, time to act!" declared that Oshiomhole has performed below expectation, therefore, should resign. Part of the letter reads: "It is my honest opinion that your ability to ensure this party flourishes is deficient as you lack the necessary composure and you also don't possess the capabilities to run a political party."
Already, former governor of old Sokoto state, Malam Yahaya Abdulkarim and former Minister of Communications, Adebayo Shittu, have boldly backed the call for him to resign. However, all the APC Chairmen in the six states of the South-south region have issued a seven-day ultimatum to Shu'aibu to withdraw his letter and apologize to Oshiomhole.
The party is now enmeshed in controversies and divisions, following this call. However, Oshiomhole, who became APC Chairman on June 24, 2018, taking over from John Oyegun, is never far from controversies. It is believed in some quarters, within the APC, that as a former Nigerian Labour Congress (NLC) Chairman, he built his reputation around activism and is attached to radicalism and despite being the governor of a State – Edo – for 8 years, he does not know the art of diplomacy. Hence, his constant face-offs with members of his party.
Here are 9 perceived sins Oshiomhole has committed which may quicken his fall as the National Chairman of the APC.
1. Openly Backing Lawan for Senate Presidency
As the National Chairman of APC, Oshiomhole seen to have led the leadership to declare support for Ahmed Lawan, who is representing Yobe North Senatorial District, of Yobe State against Ali Ndume, who is representing Borno South Senatorial District, of Borno State – both of whom are contesting for the position of the Senate President in the incoming 9th National Assembly. Oshiomhole's open endorsement of Lawan have earned him flaks from many party faithful who now accuse him and the leadership of not providing a level playing field for all desirous of the Senate President seat.
Senator Ndume and his supporters, for instance, are bitter and according to reports which went viral on May 29, 2019, Ndume is reported to have said: "What the party, or the party chairman (Oshiomhole) wants to do is wrong. It is only patriotic for me to say this is wrong, and it should change. I am only hoping that the National Chairman will rescind his decision to impose a candidate, to anoint a candidate because it contravenes the party's constitution, and it also runs against natural justice."
2. Manipulation of APC primary elections
Mr Labour, as Oshiomhole is popularly known, was interrogated by the Department of State Services (DSS), on November 4, 2018, for allegedly receiving bribe to manipulate the results of APC primary elections, across States, during the buildup to the last general elections. It was learnt that this allegation was made by certain governors. The anti-graft agency, according to reports, did compel him to resign honourably but he refused, saying he can only resign if President Muhammadu Buhari loses confidence in him.
Reports, in some quarters, have it that aspirants paid between N15 million and N50 million to secure tickets for the various elective positions during or at the end of primaries. The Senate President, Bukola Saraki, while speaking with journalists in Ilorin, Kwara State capital on November 13, 2018, during the sixth remembrance prayer for his late father, Olusola Saraki, said: "Oshiomhole is somebody, who has been told to have been collecting not even naira but dollars from candidates and he is being accused by his party's aspirants and Governors."
3. The idea of direct primaries to select standard bearers
Oshiomhole stepped on the toes of APC governors when he, through the party's National Executive Committee (NEC), scrapped the use of indirect primaries to elect standard bearers for various elective positions during the last general elections. Direct primaries involves the participation of all party members in the selection of party candidates while indirect primaries involves the use of delegates – party leaders at local levels, political appointees as well as elected officials to elect party candidates.
Most of the governors reportedly saw this as offensive because they were used to indirect primaries which grants them more powers to anoint candidates. Defending the idea of direct primaries, on September 3, 2018, Oshiomhole said that the move was to boost internal democracy. "We also note that direct primary is free from the vices associated with the indirect primary. Direct primary cannot be manipulated. It is not prone to corruption," he declared.
4. Losing States to the PDP
Oshiomhole is said to be behind the lose of States like Zamfara, Imo, Oyo and Adamawa, which were APC States prior to the last governorship election, to the Peoples Democratic Party (PDP). Failure to deliver these States to the APC is said to have enraged many big wigs in the party.
Abdulkarim, who backed the call for his resignation said: "Losing in six states is too much blow for members to bear. If Oshiomhole does not quit, the APC will be dead by 2023."
5. Series of conflict with Okorocha
Oshiomhole has been immersed in an intense quarrel with the immediate past governor of Imo State, Rochas Okorocha. The problem between the two was spirited by Oshiomhole's stand against Okorocha's alleged imposition of his son-in-law, Uche Nwosu, as his successor.
The National Working Committee (NWC) of the APC had cancelled the governorship primary election, conducted on October 1, 2019, which produced Nwosu as the governorship candidate of the APC. Okorocha got angered with this development as he had wanted his son-in-law to contest under the platform of the APC and succeed him as governor.
Then, on October 31, 2018, the NWC, at a meeting, took a decision to field Senator Hope Uzodinma as the governorship aspirant of the APC in the State. Okorocha condemned the decision of the NWC and declared that Uzodinma had not resigned his membership of the PDP on the floor of the Senate alleging that he wasfacing five corruption charges, coupled with the travel ban slammed on him.
Oshiomhole was reported to have said that Okorocha was trying to build a political dynasty in the state by anointing his son-in-law to succeed him. However, on February 5, 2019, Okorocha, said: "There is more to the noise you are hearing about the governorship election in Imo, it is not about Uche Nwosu, it is about a plot to stop Okorocha by all means, otherwise why will Adams Oshiomhole and Rotimi Amaechi be interested in who governs Imo."
Nwosu later contested the governorship election under Action Alliance (AA) and lost to Emeka Ihedioha of the PDP. On March 1, 2019, following allegations of anti-party activities levelled against Okorocha, Oshiomhole suspended him from the APC.
6. His threat to expel Ngige
In his no nonsense nature, Oshiomhole, on July 23, 2018, threatened to expel the Minister of Labour and Employment, Dr. Chris Ngige. This was due to Ngige's lackadaisical attitude towards the constitution and inauguration of Board for Federal Agencies' Parastatals under his ministry.
"If the Minister refuses, we will suspend him from the party. We must return to internal discipline. For me, it is the height of mischief for any Minister, you cannot purport to be an Honourable Minister and you act dishonourably. Nobody is greater than the party. When we expel the Minister, we will prevail on the President that he can't keep in his cabinet people who have neither respect for his decisions nor have respect for the party without which they would not have been ministers," part of Oshiomhole's statement read. Ngige bore Oshiomhole's assault quietly but is largely believed to be nursing a revenge as opportunity presents.
7. Zamfara primary elections tussle
The APC in Zamfara was rocked by a monumental crisis prior to the last governorship election. The problem started when the then outgoing governor, Abdulaziz Yari, anointed his Commissioner for Finance, Mukhtar Idris to replace him. This decision did not go down well with some party members. This divided the party in the State as there were two factions parading governorship candidates. Oshiomhole cancelled the primaries. Yari dismissed the decision of the party and warned members of the NWC not to come to Zamfara State again. According to Yari: "Our issue is with the National Secretariat of APC where Adams Oshiomhole continues to be a dictator to party members; he acts as a mini-god."
However, on May 24, 2019, the Supreme Court in a decision made by a five-member panel, presided over by the Acting Chief Justice of Nigeria, Tanko Muhammad, ruled that there were no primaries conducted in Zamfara State by the APC and that the party could therefore not have emerged winner in any of the state elections. PDP's Bello Matawalle has already being sworn-in as the governor of the state, leaving out Idris who got more votes than him.
8. Disqualification of Amosun's anointed candidate
What played out in Imo State is almost the same with what turned out in Ogun State. The then outgoing governor of the State, Ibikunle Amosun, wanted Adekunle Akinlade, his anointed candidate to succeed him. However, he (Akinlade) lost in the politics of the APC primaries. The NWC panel sent to the State, declared Dapo Abiodun the governorship candidate of the party. This put Amosun at loggerheads with Oshiomhole as he believed that he had a hand in the way things turned out.
Addressing supporters on December 21, 2018, he urged them to ignore the developments, and backed Akinlade at the poll under the platform of the Allied Peoples Movement (APM). Amosun's pains are evidenced in the woeful loss to Abiodun who has already being sworn-in as the governor of Ogun State.
Just like Okorocha, Amosun was, after the election, suspended on March 1, 2019, on the allegation of indulging in anti-party affairs.
9. His silent rift with Obaseki
Oshiomhole has been in a rather silent fight with his successor in Edo State, Godwin Obaseki. It is alleged that Obaseki is no longer loyal to Oshiomhole who facilitated his election to the governorship seat of the State in 2016. The political war s being fought by proxy.
On May 20, 2019, the APC in Edo North Senatorial District vowed to resist any attempt by Obaseki to tarnish the image of Oshiomhole. In a press release, the group said, among others, "…We condemned that publication and urged the State Government to stop playing hide and seek game in its attempt to rubbish the legacies of Oshiomhole which surely exist."
Days later, the Okanlete of Esan land, Major General Cecil Esekhaigbe (RTD), in a statement titled: "Governor Godwin Obaseki and the Cocktail of Endorsements," advised the governor to reach out to Oshiomhole and settle whatever grievances they have against each other.
"I enjoin Governor Obaseki to bridge any gap with Adams Oshiomhole and other political leaders before crossing the start-line for the imminent battle," he said.
However, while addressing supporters who came to welcome him (Obaseki) at Benin airport on May 1, 2019, Obaseki denied having any problem with Oshiomhole.
Will Oshiomhole eventually fall?
On the surface, the move to see off Oshiomhole appears to be in its early days. However, analysts contend that the grand plan may have been in the works for a while. Many have, thus, argued that the pushing and shoving currently being witnessed are all in line with the underground battle for who occupies the presidency in 2023.
The forces massed against Oshiomhole, it must be noted, are determined as the number of persons and groups coming out to publicly denounce his leadership begin to take a larger appeal.
While concerns mount over Oshiomhole's survival, many believe that he still enjoys the presidency's support. This position, however, appears tenuous as President Muhammadu Buhari, who he assisted to a second term in office, is notorious for being aloof to the internal conspiracies and politics within his party.
Oshiomhole may, therefore, be on a lonely road hanging on to the support of those who consider him very vital to the looming battle for who grabs the APC structure ahead of the 2023 polls.
By John Chukwu…
Join the conversation
Opinions
Support Ripples Nigeria, hold up solutions journalism
Balanced, fearless journalism driven by data comes at huge financial costs.
As a media platform, we hold leadership accountable and will not trade the right to press freedom and free speech for a piece of cake.
If you like what we do, and are ready to uphold solutions journalism, kindly donate to the Ripples Nigeria cause.
Your support would help to ensure that citizens and institutions continue to have free access to credible and reliable information for societal development.