Trump's China tariffs will hurt Apple, help Samsung, Tim Cook warns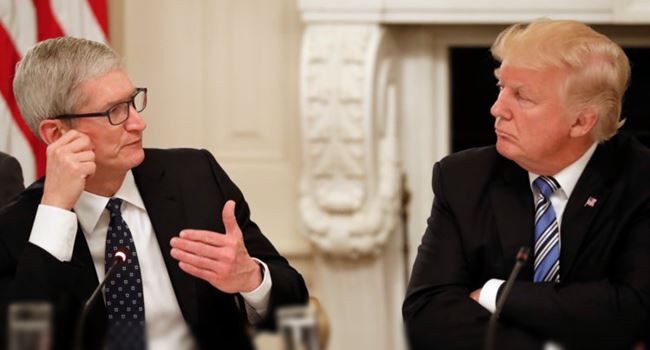 The CEO of Apple, Tim Cook, has warned that the arbitrary tariffs imposed by President Donald Trump on China will make it harder for his company to compete with Samsung.
That submission formed the basis of Tim Cook's message to Trump when the two had dinner over the weekend, according to Trump.
"I had a very good meeting with Tim Cook," Trump told reporters Sunday. "Tim was talking to me about tariffs. And one of the things he made a good case for is that Samsung is their number one competitor, and Samsung is not paying tariffs because they're based in South Korea."
READ ALSO: Australia launches investigations against Google, Facebook over consumer privacy
He continued: "It's tough for Apple to pay tariffs if they're competing with a very good company that's not. I said, 'How good a competitor?' He said they are a very good competitor. So Samsung is not paying tariffs because they're based in a different location, mostly South Korea but they're based in South Korea. And I thought he made a very compelling argument, so I'm thinking about it."
Apple would be hit by new tariffs set to come into effect Sept. 1 because its products are largely made in China, while Samsung would avoid such a hit thanks to its manufacturing taking place mostly in Vietnam, India, Indonesia and other countries.
Join the conversation
Opinions