Nine politicians who became thieves after Nigerians entrusted them with power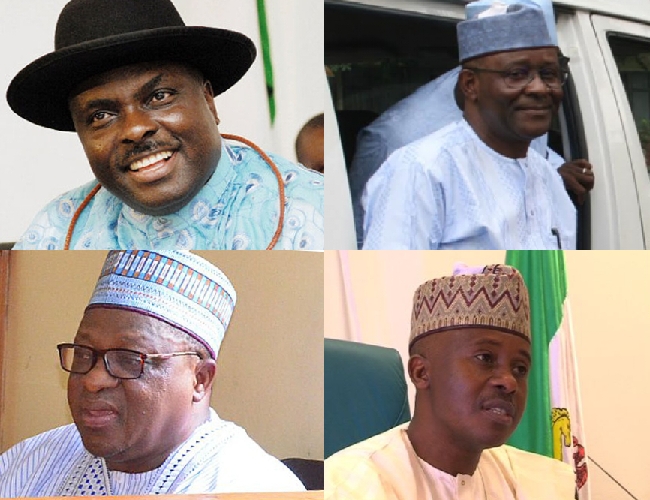 Since the return to democracy in 1999, the Nigerian polity has witnessed a flagrant abuse of power by politicians tasked with presiding over the affairs of the citizenry.
Billions of naira that could otherwise have been used to better the lives of the citizenry have been stolen, and siphoned into private pockets. Many of such politicians have escaped the law.
Nonetheless, some scared cows often fall on the wrong side of the law in what becomes cautionary tales for their contemporaries, who also act with impunity.
Though some public office holders have been convicted and jailed for corruption, may Nigerian believe that this is a very small fraction, compared to the number who have abused, and still abusing public trust. Here is a profile of nine Nigerian politicians entrusted with power and access to the people's treasury, but they misused it, and were convicted by competent courts of law for abuse of office/power:
JOLLY NYAME
A High Court of the Federal Capital Territory in 2018, ordered the refund of monies diverted by former Taraba State governor, Jolly Nyame, after sentencing him to 14 years in prison.
The former governor was charged by the Economic and Financial Crimes Commission (EFCC) for allegedly diverting N1.64 billion in May 2007.
In a 41-count charge of fraud, the commission accused Nyame of spearheading the fraudulent transfer of funds from the Taraba State treasury to a company, Saman Global for the purchase of office equipment and stationeries that were never delivered.
He was also accused of fraudulently enriching himself and abusing public trust.
In a lengthy judgment which lasted over five hours, the judge, Adebukola Banjoko gave a holistic overview of the testimonies given in court which resulted in the judgement.
His appeal to the Court of Appeal of Nigeria had his jail term reduced to 12 years. Further miffed by the said decision, he appealed to the Supreme Court of Nigeria challenging the jurisdiction of the Federal Capital Territory High Court to have entertained the case, craved for the further reduction of the 12 years sentence as well as the 100 Million fine imposed on him by the Court of Appeal of Nigeria.
At the Supreme Court, the appeal against the imposition of fine succeeded but the Supreme Court affirmed the 12 years jail term.
Hon. Justice Amina Augie held that the Court of Appeal of Nigeria was gracious enough to have reduced it to 12 years as a first time offender.
JOSHUA DARIYE
A High Court of the Federal Capital Territory sitting at Gudu, in 2018, convicted and sentenced the former Governor of Plateau State, Joshua Dariye to 14 years imprisonment for diverting public funds to the tune of N1.126billion.
Dariye who was governor of Plateau State from 1999 to 2007 and at a time Senator representing Plateau Central, was found guilty on 15 out of the 23-count criminal charge the EFCC preferred against him.
The court said it was satisfied that the defendant, being a public officer that had full dominion and control of ecological funds the Federal Government released to Plateau State in 2001, converted and diverted same for his personal use.
It held that the ex-governor criminally misappropriated funds and acted in violent breach of public trust and his oath of office.
On appeal to the Court of Appeal of Nigeria, the Court reduced the 14-years sentence for the offence of Criminal Breach of Trust to 10 years and reduced the two years sentence for Criminal Misappropriation to one year.
On further appeal to the Supreme Court of Nigeria, the apex court however, upheld Dariye's concurrent conviction and sentence by the trial court and the Court of Appeal for the offence of Criminal Breach of Trust but proceeded to quash his conviction and sentence in relation to the offence of Criminal Misappropriation.
In April 2022, the Council of State led by President Muhammadu Buhari approved the pardon of Dariye and Nyame.
JAMES IBORI
James Onanefe Ibori, was another convicted felon who was a former governor of Delta State after he was convicted on fraud and money laundering charges in the United Kingdom.
Ibori who was the governor of the oil-rich state from 1999 to 2007, was sentenced to 13 years in prison for money laundering by a London court after pleading guilty to the charges.
The headline by Guardian UK a day after the sentencing, reads;
"James Ibori, a petty thief who eventually became one of Nigeria's richest men," subtly captured the Nigerian predicament where criminals became political figures despite their known infractions.
Ibori was sentenced after admitting to fraud of nearly £50 million which the judge described as probably "ludicrously low" going by the standard set by Nigerian politicians.
"In the light of other matters, perhaps that is a ludicrously low figure and the figure may be in excess of £200m, it is difficult to tell," Judge Anthony Pitts of the Southwark crown court had said.
"The confiscation proceedings may shed some further light on the enormity of the sums involved."
During the trial, Ibori pleaded guilty to 10 offences relating to conspiracy to launder funds from the state, substantive counts of money laundering and one count of obtaining money transfer by deception and fraud.
At the sentencing hearing, the prosecution told the court how Ibori, once a "petty thief with his hand in the till" at the DIY store Wickes, amassed a portfolio of six properties outside Nigeria worth £6.9m at a time he was being paid £4,000 a year as state governor in the Delta region.
The properties in London included a flat in St John's Wood, a house in Hampstead, and one in Regent's Park. He also had a £3m mansion in South Africa, and properties in Texas and in Dorset, near to where his children attended private school.
Ibori also bought a fleet of luxury cars, and in three years, ran up £920,000 on his American Express Centurion card – a card only available to the super-rich, Wass told the court. In 2005, Ibori instructed a London solicitor to buy a private jet costing $20m.
The Metropolitan police also estimated that Ibori embezzled $250m (£157m) of Nigerian public funds.
It was also discovered that
as governor of Delta State, Ibori had racked up credit card bills of $200,000 a month and owned a fleet of armoured Range Rovers, and was arrested while negotiating to buy a private jet.
Late DSP ALAMIEYESEIGHA
The late Diepreye Solomon Peter Alamieyeseigha, entered the fray as a convicted politician who called the shots as governor of Bayelsa State where he governed from 1999 to 2005.
In 2005, Alamieyeseigha was detained in London on charges of money laundering after the Metropolitan police found over £1 million in cash in his London home.
Following further investigations, another cash stash of £1.8 million ($3.2m) were found both in the apartment and in different bank accounts. He was also found to own four homes in London worth more than £10 million.
READ ALSO:Nigerian govt has not returned Ibori's £4.2m to Delta,' Accountant-General backtracks
The investigations also revealed that he had embezzled his state's funds to the tune of £32 million from monthly federal allocations in six years.
Alamieyeseigha then pulled off a stunt when he jumped bail in December 2005 and escaped from the United Kingdom by disguising himself as a woman
His problems were compounded when he was impeached on allegations of corruption on December 9, 2005.
On July 26, 2007, Alamieyeseigha pleaded guilty before a Nigerian court to six charges of fraud, money laundering and corruption and was sentenced to two years in prison on each charge after spending two years in detention, but because the sentences were set to run concurrently and the time was counted from the point of his arrest, his actual sentence was relatively short.
However, many of his assets were ordered to be forfeited to the Bayelsa State government.
But in a face saving interview, Alamieyeseigha said he only pleaded guilty due to his age and would have fought the charges had he been younger.
He was released just hours after being taken to prison due to time already served and on March 12, 2013, then President Goodluck Jonathan incurred the wrath of Nigerians by granting Alamieyeseigha a presidential pardon which was heavily criticised by many Nigerians.
FAROUK LAWAN
Former member of the House of Representatives and Chairman of House Ad-hoc committee on Fuel Subsidy Probe, Farouk Lawan, also got his hands burnt when he was sentenced to seven years imprisonment in 2021 over a $3 million bribery scandal that rocked the Committee.
Lawan was convicted by a High Court of the Federal Capital Territory after he was found guilty of receiving the sum of $3 million from the Chairman of Zenon Petroleum and Gas Ltd, Femi Otedola, to give his company a clean bill of health in the fuel subsidy probe the House of Reps initiated on 2012.
In the judgement delivered by Justice Angela Otaluka, the court found Lawan, by then four-term lawmaker representing Bagwai/Shanono Federal Constituency of Kano State, guilty of fraud, soliciting and receiving bribe as well as money laundering.
The court held that Lawan, founder of a group called "Integrity Forum" in the House, had acted in breach of section 17 (1) (a), section 8(1) (a) (b) (ii), and section 23 (i) of the Corrupt practices and other Related Offences Act, 2000, and committed an offence punishable under section 8 (1) 17 (1) and 23(3) of the same Act.
He was promptly handed a seven-year jail term on counts 1 and 2 of the charge, and five years on count 3.
PETER NWAOBOSHI
Delta State Senator, Peter Nwaoboshi also falls into the category of Nigerian leaders who ran foul of the law and had to be hauled off to prison.
The embattled Senator was in 2022, sentenced to seven years in prison by the Lagos Division of the Court of Appeal for money laundering after it was established that he had used his companies, Golden Touch Construction Project Limited and Suiming Electrical Limited, to launder money.
Nwaoboshi, who represented Delta North senatorial district in the National Assembly, was convicted on a two-count charge of fraud and money laundering.
The court also ordered that his two companies be wound up in line with Section 22 of the Money Laundering Prohibition Act 2021.
According to the spokesperson of the EFCC, Wilson Uwujaren, Nwaoboshi was prosecuted following several allegations of fraud and misappropriation of funds levelled against him.
The anti-graft spokesman said in 2021, the lawmaker was accused by the Niger Delta Development Commission (NDDC) of using 11 companies as fronts to secure for himself a N3.6 billion contract in the commission.
But the contract was not executed while the money was not refunded.
The then NDDC spokesperson, Charles Odili, had described the contract as the "biggest single case of looting of the Commission's resources."
While the case was still ongoing, Nwaoboshi defected from the Peoples Democratic Party (PDP) to the All Progressives Congress (APC) but that did not save him from being handed a jail term.
ALBERT BASSEY
The Senator representing Akwa Ibom North-East senatorial district at the National Assembly, Albert Bassey Akpan, ran into troubled waters towards the end of 2022 when a Federal High sitting in Uyo, the state capital, sentenced him to 42 years imprisonment for money laundering.
Senator Bassey who was also the governorship candidate of the YPP in the 2023 election, was convicted by Justice Agatha Okeke after he was found guilty of a six-count charge of money laundering preferred against him by the Economic and Financial Crimes Commission (EFCC).
The EFCC had dragged Senator Bassey to the court on allegation of receiving a vehicle valued at N204 million as a bribe from companies linked to one Olajide Omokore, a contractor who executed a N3 billion contract for the Government of Akwa Ibom State while he was Commissioner for Finance and Chairman of the Inter-Ministerial Direct Labour Coordinating Committee.
The offence, according to the EFCC, contravened Section 15 (2) (d) of the Money Laundering (Prohibition) Act, 2011 (as amended) and punishable under Section 15 (3) of the same Act.
LUCKY IGBINEDION
Former governor of Edo State, Lucky Igbenedion made history as the first Nigerian ex-governor to be convicted of looting public funds and money laundering.
Shortly after his tenure, in 2008, the EFCC dragged him to court on a whopping 142 counts of corruption amounting to $24 million using front companies.
During the trial, Igbinedion entered a plea bargain with the commission and refunded a fraction of the amount he was said to have embezzled. He was later to be released on the strength of the plea bargain.
JAMES BALA NGILARI
James Bala Ngilari is another ex-governor who was convicted for looting public funds.
Ngilari was the governor of Adamawa State for only seven months until May 2015 when he was convicted of awarding a contract for the procurement of 25 vehicles at a cost of N167 million without following due process.
Ngilari was found guilty of five of the 17 charges levelled against him in September 2016 by the Economic and Financial Crimes Commission (EFCC) and was sentenced to five years imprisonment without an option of a fine. His conviction was however, shortlived as he was to be acquitted by the Court of Appeal.
Join the conversation
Opinions
Support Ripples Nigeria, hold up solutions journalism
Balanced, fearless journalism driven by data comes at huge financial costs.
As a media platform, we hold leadership accountable and will not trade the right to press freedom and free speech for a piece of cake.
If you like what we do, and are ready to uphold solutions journalism, kindly donate to the Ripples Nigeria cause.
Your support would help to ensure that citizens and institutions continue to have free access to credible and reliable information for societal development.