Nine dishonourable quotes from Nigeria's 2023 elections: Who said what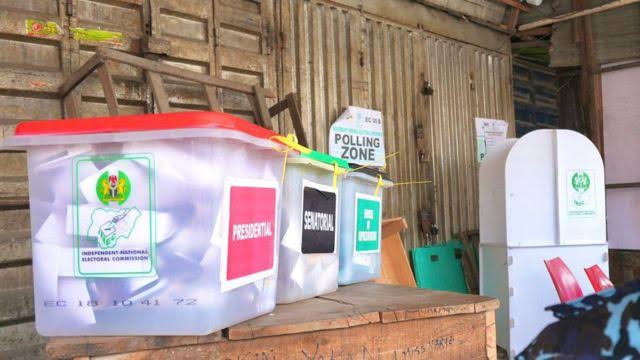 The 2023 general elections may have come and gone, but its echoes keep reverberating and refusing to go away, just as issues thrown up by the elections keep dominating both traditional and social media in the country.
By popular consensus, the just concluded elections were adjudged as the most divisive and controversial in the history of the country, not because they were worst in terms of organisation or credibility of the process, but because of the actions and utterances of political actors, who literally almost set the nation on fire.
There is no controversy about the fact that the 2023 elections were an improvement on past elections, especially with the adoption of technology, especially the Bimodal Voters Accreditation System (BVAS), which actively reduced incidences of over voting, ghost voting, ballot box snatching and other electoral malpractices.
Though the above, does not make the election perfect, the point, however, is that the bulk of crisis or near crisis the nation had came from political actors, including the electoral umpire, the Independent National Electoral Commission (INEC).
Comments by political actors bordering on ethnicity, religion and veiled calls to violence, more than any other thing, drew the nation to the brink, endangered the corporate existence of the country and threatened the nation's fledgling democracy.
Some of the comments, reproduced below, brought up ethnic tensions and wiped up religious sentiments, making the 2023 elections the most tainted by religion and ethnicity in the history of Nigeria.
Peter Obi on the Church and 2023 Elections
The presidential candidate of the Labour Party, Peter Obi has been under fire for allegedly introducing religious sentiments into elections in the country.
From campaigning in churches, visiting majorly Christian dominated places and his recently leaked alleged phone conversation with Bishop David Oyedepo, the highly Influential founder of Living Faith Church Worldwide, where he allegedly likened the 2023 presidential election to a religious war.
Though Obi denied the claim, the discordant tunes from his media aides, cast measures of doubt on such denial. That notwithstanding, there were also several instances, where Obi was quoted to have said it was time Christians take back their country, as if Nigeria belongs to only Christians.
Obi, during one of his many outings at Christian gatherings said: "Please for the sake of the children of this country, I know you'll say you are not involved in politics and I don't want you to be involved but next year's election remember without the church Marcus wouldn't have led Philippines. So many changes that happened all over the world it was the church that brought them, so lets pray and take action".
Though the LP candidate was being clever by half when he told his audience he does not want them involved in politics, he nevertheless drove home his point, telling them without the Church, no meaningful progress or change can be achieved.
Obi's Lunatic, Asylum comments
Following his now popular appeals to the Christian community to wake up and take action during the 2023 presidential election, Obi again, at another outing in a Christian gathering, chose to lump the entire political class in the country as lunatics, that have taken charge of the asylum.
Though there is no gainsaying that the political terrain in the country leaves more to be desired, lumping the entire political class, to which he belongs since 2003, as lunatics, was unbecoming of a presidential candidate who hoped to work the same set of lunatics to govern the country.
Obi said: "We can't allow this gangsterism to continue, Nigerians should take back their country. Seventy percent of those who are in politics today should not have any reason to be there. I have said it, politics in Nigeria is a case where lunatics have taken over the asylum," he said.
Obi's saintly posturing before, during and after the election and his labeling every other person that's not in his camp, only gave him out as a self righteous person who may not pass the test of sainthood, especially with recent allegations of corruption, forgery and perjury allegedly committed by the national leadership of his party, the Labour Party.
Fani-Kayode's diatribe against Igbos
If there is any complete low point during the just concluded elections, especially shortly before the governorship elections across the country, it was the resort to ethnic profiling and resort to religious sentiments by political players.
And off course, the Director of New Media for the Tinubu/Shettima Presidential Campaign Council, Femi Fani-Kayode, came out as one of the worst culprits.
Fani-Kayode, who is widely known as a controversial character, just before the governorship election in Lagos State, came out in full force against the Igbos, swearing that Lagos State will never be surrendered to them for the taking.
"How can such a well brought up & distinguished young man be one of those that joined the mob to burn buses during the Endsars riots?
"How can he be one of those that turns his back on his own Yoruba people, hero worship secessionists like Ojukwu & conspire to hand over Lagos to the Igbos? Can any Igbo man do that for a Yoruba in the East? Is he aware of what the Yoruba were subjected to in parts of the east during the just concluded presidential election?
"Does he know the number of Igbos that were killed, tortured & whose homes were burnt in the east simply because they dared to vote for Bola Ahmed Tinubu, a Yoruba man?
"I love the Igbo & I believe in a plural society which welcomes all ethnic nationalities & creeds but to hand Lagos over to them as a way of compensating them for their past woes is absurd.
"That would be absurd and suicidal and we will NEVER allow it to see the light of day. What happened to this otherwise brilliant and cerebral young man called Gbadebo Rhodes-Vivour? What has got into him? Is he possessed? Is he in need of prayer and deliverance?", Fani-Kayode stated.
If this is not ethnic profiling, then nothing else is! And to be sure, this and many other comments by Yoruba ethnic jingoists almost turned Lagos to a battlefield between Yoruba and Igbos during the governorship election.
For a man, who was formerly married to an Ibo woman and whose four sons are half Igbo, it was most unconscionable to have uttered such a statement.
Fani-Kayode on Obasanjo
In Fani-Kayode's bid to defend his Yoruba race and put himself out as the champion and chief defender of the Yoruba Nation, he once again took on former President Olusegun Obasanjo, a man he served first as Senior Special Assistant and later as Minister of Aviation.
The ex-minister's grouse with his former boss was Obasanjo's inaction when Chief Emmanuel Iwuanyanwu allegedly referred to Yoruba people as rascals, an allegation that has been denied, with claims that the video of the event where Iwuayanwu allegedly made the statement was doctored.
Fani-Kayode said of Obasanjo: "The fact that our revered leader and one of the fathers of our nation, former President Olusegun Obasanjo, can sit there and say nothing when Chief (Dr.) Emmanuel Iwanyanwu, an elderstatesman who I have always respected, describes the entire Yoruba race as "rascals" that the Igbo "will DEAL with" tells me that the rumour that he is NOT a fully-fledged Yoruba man and that his father was an Igbo may well be true.
"Whatever the case this is not the OBJ I once knew, loved, defended and worked so hard for. Something has gone wrong.
"No-one could have made a statement against ANY tribe in the presence of the old OBJ that we all knew and respected and got away with it. He would have got up and told them off."
"As for Iwanyanwu I will not respond to him or to all those that were at that event and that collectively rubbished our people because they are my in-laws and because my four sons are half Igbo."
One thing Fani-Kayode showed in the statement above is that no one is sacred or immune to his verbal onslaught as far as his Yoruba champion and defender posturing is concerned. He is also not concerned if such comments and statements are capable of setting the nation on fire!
Fani-Kayode on Peter Obi
Not done with his vituperation against the opposition, Fani-Kayode, again, took on Peter Obi, the LP presidential candidate after the leaked audio of the alleged phone conversation with Bishop Oyedepo was confirmed to be real by one of the spokespersons of the Obi-Datti campaign, Kenneth Okonkwo.
In his reaction, the Tinubu/Shettima campaign spokesman said Obi is of the 'troublers' of Nigeria and that Muslims would have been at risk if he won the presidential election.
He said: "Now that the spokesman of Peter Obi, one Kenneth Okonkwo, has confirmed that the audio recording of the conversation between Bishop Oyedepo and his principal is authentic, it is time for us to call on the security agencies to declare Peter a master terrorist, a security risk, a man that is wholly unfit to lead a multi-religious, multi-ethnic, multi-cultural state and a hater of non-Christians.
READ ALSO:2023 elections prove Nigeria's democracy is maturing —Buhari
"He is indeed one of the "troublers" of our nation. Can you imagine what would have happened to Muslims if he had won the election? Within a few months he would have plunged Nigeria into a religious war."
It may be safe to believe Fani-Kayode did not know or think through the import and likely consequence of his comment on Obi in a country religion ca inflame passion and drive adherents to the extreme. There is no doubt that this particular comment could have put Obi and his supporters scattered across the country in harms way.
Bayo Onanuga's anti-Igbo tweet
One of the major disappointments of the 2023 general elections was the descent to the gutter of ethnic profiling by the respected journalist, Mr Bayo Onanuga.
As the Director of Media and Publicity of the Tinubu/Shetimma Presidential Campaign, Onanuga had a not so envious responsibility of selling the APC candidates, a job he did well as the veteran that he is. However, his tweet against Igbos before the governorship election in Lagos, removed from, so much of the respect many had for him, overshadowing his enviable records as a journalist.
The co-founder of The News tweeted: "Let 2023 be the last time of Igbo interference in Lagos politics.
"Let there be no repeat in 2027.
"Lagos is like Anambra, Imo, any Nigerian state. It is not No Man's Land, not Federal Capital Territory. It is Yoruba land. Mind your business."
As if the above was not enough, Onanuga, again insisted, in another tweet, that he had no apologies for his earlier tweet after a barrage of condemnation.
"Let me make myself abundantly clear: the views I express on Twitter are my personal views.
"I don't owe anyone any apology for addressing the existential threats of our people. I am after all, first of all a Yoruba, before being a Nigerian."
For a man of Onanuga's standing in the media and his record of activism during the military era, it was shocking that he could descend to the level of becoming an ethnic champion, a non-repentant at that.
Datti's Outburst on Tinubu's inauguration
When Peter Obi announced the choice of Datti Baba-Ahmed as his vice presidential running mate, a lot of Nigerian saw the ticket as that of two gentlemen, a combination that Nigeria and Nigerians need.
During the campaigns, Datti did not disappoint those who welcomed his nomination as running mate to Obi, as he was able to comport himself with decorum and class befitting of a potential number two citizen of the country.
This optimism about the LP vice presidential candidate, however, vanished after his appearance on Channels Television, where he made statements considered to be inciting, fascist and treasonable.
Datti said: "Section 134 stipulates who should be declared and issued a certificate of return. It is only that candidate that has scored the highest number of votes and at least 25 percent each in at least two-thirds of the states of the federation and the FCT.
"Now, it is very clear that Tinubu does not have 25 percent in the FCT, we denied him. We got 61 percent. Atiku does not have 25 percent in the FCT. We denied both of them.
"By clear and unambiguous provisions of the Nigerian constitution, which must not be breached, Tinubu has not satisfied the requirement to be declared President-elect. Accordingly, there is no President-elect for Nigeria now. Because the declared one violates the constitution of the Federal Republic of Nigeria and I know what I'm saying.
"Swearing in a ticket that has not met the constitutional requirement is ending democracy. That is indeed the correct interpretation. You cannot swear in people who have not met the constitutional requirement. if you do it, you have done something unlawful and unconstitutional.
"Mr President, do not hold that inauguration. CJN, your lordship, do not participate in unconstitutionality. It is extreme and I'm saying it. It was more extreme for Yakubu to issue that certificate. It was reckless."
Aside making sweeping pronouncements on certain portions of the Nigerian Constitution to back up his claim that Nigeria does not have a President-elect, a function reserved for their lordships in both the Court of Appeal and the Supreme Court, Datti, categorically stated that swearing in the declared winner of the election would be ending democracy in the country.
Though it remains the prerogative of the LP VP candidate to tell Nigerians what he meant by ending democracy in Nigeria, such a statement, whatever it means, is not what a potential vice president should have been caught saying.
Obasanjo's call for election cancellation
Former President Olusegun Obasanjo also got himself into the ignoble list of those who made statements that were deemed less than appropriate, when, in an open letter to President Muhammdu Buhari, he openly called for the stoppage of the collation of results for the February 25, 2023 presidential election.
Though, Obasanjo saw his letter as his own way of intervening in an election he believes was below expectation, but calling for a halt of collation of results and cancellation of the election, was beyond what was expected of the former President.
"It is no secret that INEC officials, at operational level, have been allegedly compromised to make what should have worked not to work and to revert to manual transmission of results which is manipulated and the results doctored.
"The Chairman of INEC may claim ignorance but he cannot fold his hands and do nothing when he knows that election process has been corrupted and most of the results that are brought outside BVAS and Server are not true reflection of the will of Nigerians who have made their individual choice. At this stage, we do not need wittingly or unwittingly to set this country on fire with the greed, irresponsibility and unpatriotic act of those who allegedly gave money to INEC officials for perversion and those who collected the blood money.
"Let me appeal to the Chairman of INEC, if his hands are clean, to save Nigeria from the looming danger and disaster which is just waiting to happen. If the Chairman can postpone elections four days to the election, he can do everything to rectify the errors of the last two days – no BVAS, no result to be acceptable; and no uploading through Server, no result to be acceptable.
"Whereas BVAS and Servers have been manipulated or rendered inactive, such results must be declared void and inadmissible for election declaration. Chairman INEC, I thought you would use this wonderful opportunity to mend your reputation and character for posterity.
"Your Excellency, President Buhari Muhammadu, tension is building up and please let all elections that do not pass the credibility and transparency test be cancelled and be brought back with areas where elections were disrupted for next Saturday, March 4, 2023, and BVAS and Server officials be changed.
For a former president to make sweeping allegation of bribing against INEC, alleging the manipulation of BVAS, without concrete evidence is certainly a low point for Obasanjo. This is even more so with allegations that the worst elections in Nigeria, 2007, was conducted under him.
Obasanjo's open letter to Buhari, with its unsubstantiated sweeping allegations, may just be what prepared the ground for the current vehement denouncement of the election by supporters of his preferred candidate, Obi.
MC Oluomo's threat against Igbos
Musiliu Akinsanya, popularly known as MC Oluomo, is the Chairman of the Lagos Parks and Garages Committee and strong ally of the President-elect, Asiwaju Bola Tinubu.
MC Oluomo, was one of the most talked about individuals before and during the 2023 general election owing to his threat against Igbos, which he later said was a joke.
In a viral video before the governorship election, the Tinubu supporter was heard to have said: "It is not a fight. It is not wahala (a problem). What do we want to correct it? Our PVC. And we will stand there. Yoruba should get there first and should vote first.
"When we finish voting, we'll be watching because we have begged you and you said you have heard. If you make a mistake, you will understand. Please tell them, we have begged them. If they don't vote for us, it is not a fight. Tell them that, Chukwudi's mother, if you don't for us, sit down at home. Do you understand? Sit down at home,"
For many, MC Oluomo's veiled threat against Igbos was the precursor to reported and alleged violence and disenfranchisement against non-Yoruba people during the governorship election in Lagos.
It is, however, disheartening that despite several evidences of such threats and actual violence against non-Yoruba persons, MC Oluomo and his associates have not been brought to book.
Join the conversation
Opinions
Support Ripples Nigeria, hold up solutions journalism
Balanced, fearless journalism driven by data comes at huge financial costs.
As a media platform, we hold leadership accountable and will not trade the right to press freedom and free speech for a piece of cake.
If you like what we do, and are ready to uphold solutions journalism, kindly donate to the Ripples Nigeria cause.
Your support would help to ensure that citizens and institutions continue to have free access to credible and reliable information for societal development.